For years I've bought Penguin paperback books for their cover design. In 2013 I came across a copy of the 'The Rape Of Lucrece' by William Shakespeare and instantly thought it was the most arresting Penguin cover I'd seen.
The New Penguin Shakespeare series featured woodcut print illustrations by English artist David Gentleman (born 11 March 1930) which sat on a white background with the title in a simple Helvetica font.
When I researched the series I discovered that David Gentleman had illustrated 31 Shakespeare plays over a period from 1967 to 1977. Factual information about the covers that David produced is limited and it's hard to determine the dates when his covers replaced those by Pierre Clayette. There is a suggestion that he produced a version of 'The Sonnets' but as David said in 2005…
"I always took the series' eventual completion for granted. In the end, it never quite made it – there was no Hamlet or Sonnets – and one day I was a bit surprised to notice in a bookshop that another artists had taken the series over."
Below is my collection. I hope you enjoy them as much as I do.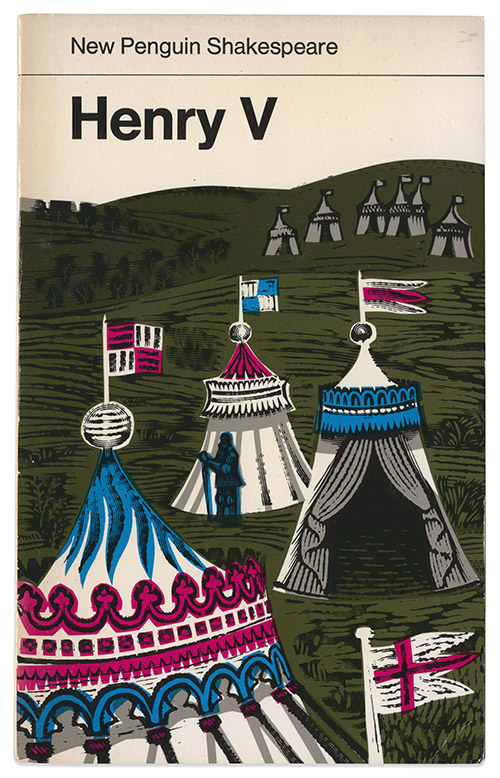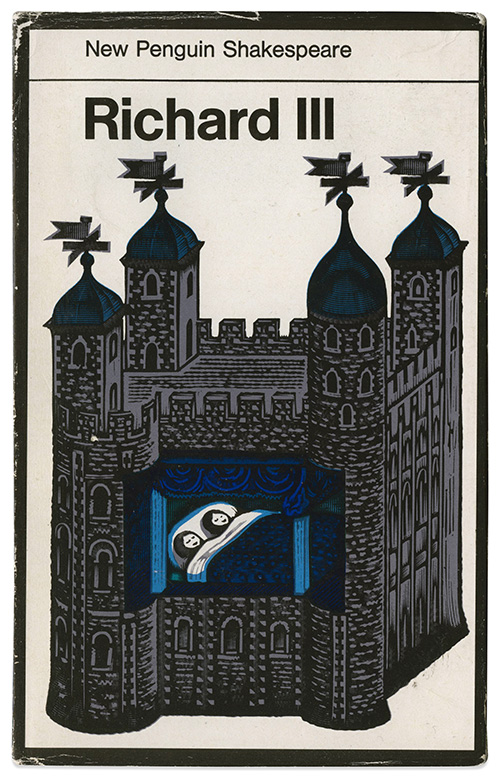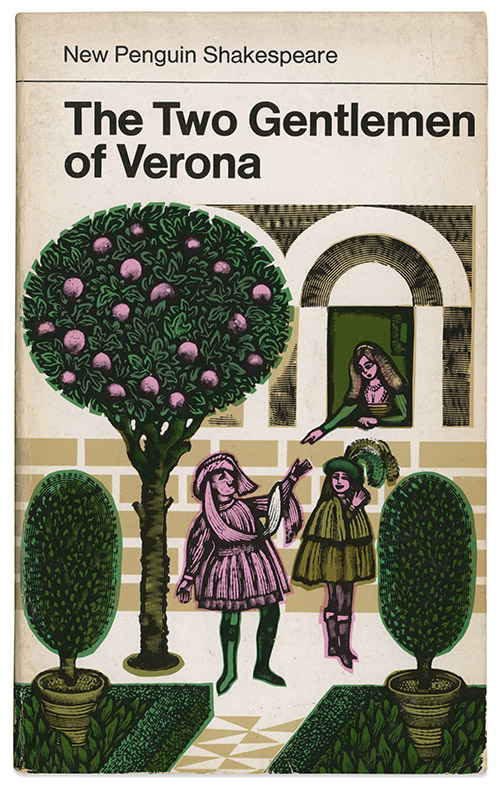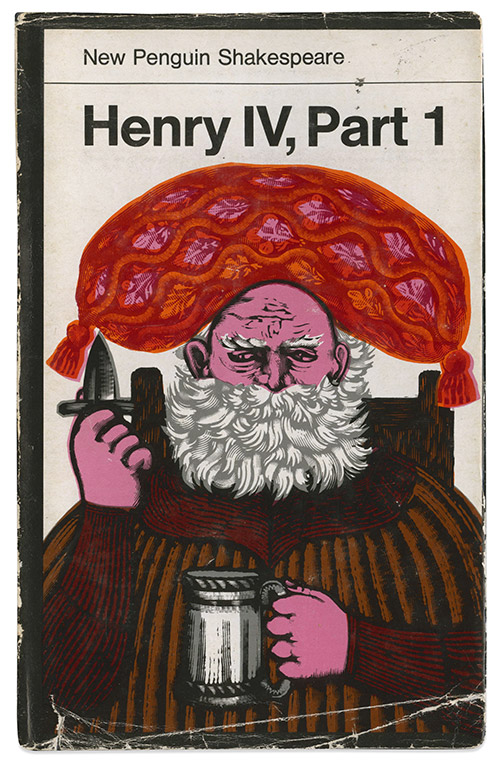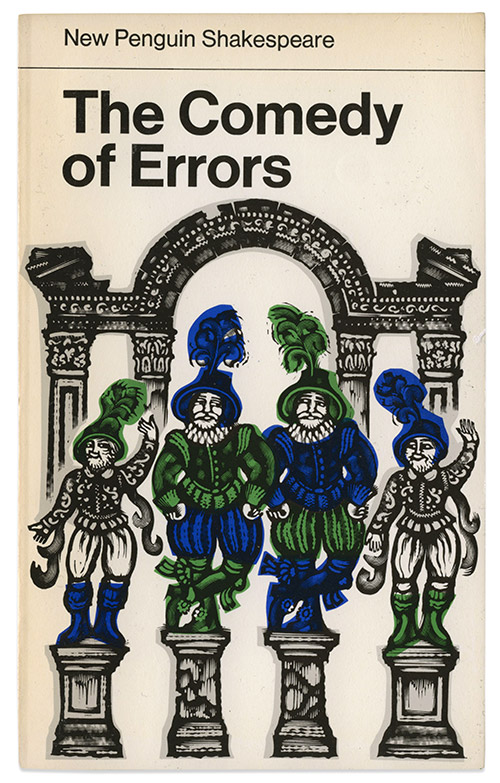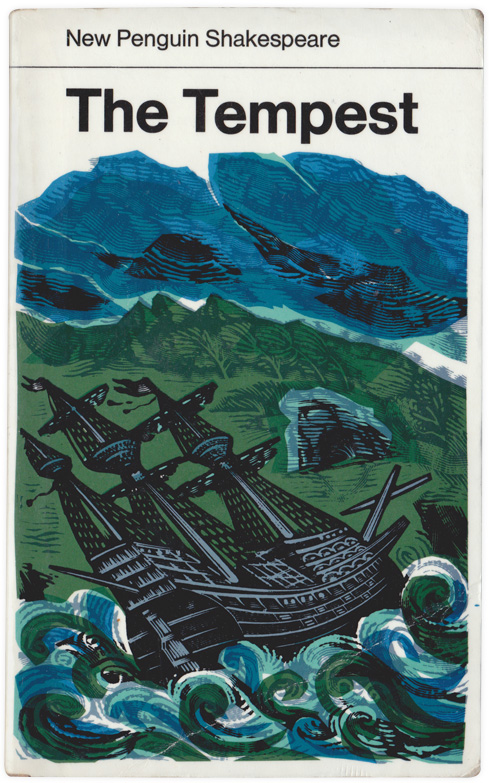 As far as I know these are original published dates and details of all the New Shakespeare Penguin editions when they first used the David Gentleman's illustrations for the front covers. If you spot any mistakes please let me know.
Title: Romeo And Juliet
Edited by: by Terence J. B. Spencer
Date Published: April 1967
Title: Coriolanus
Series Editor: Terence J. B. Spencer
Date Published: April 1967
Title: Julius Caesar
Series Editor: Terence J. B. Spencer
Date Published: April 1967
Title: Macbeth
Series Editor: Terence J. B. Spencer
Date Published: April 1967
Title: The Merchant Of Venice
Series Editor: Terence J. B. Spencer
Date Published: April 1967
Title: Othello
Series Editor: Terence J. B. Spencer
Date Published: April 1968
Title: Henry V
Series Editor: Terence J. B. Spencer
Date Published: April 1968
Title: Much Ado About Nothing
Series Editor: Terence J. B. Spencer
Date Published: February 1968
Title: The Taming Of The Shrew
Series Editor: Terence J. B. Spencer
Date Published: February 1968
Title: Twelfth Night
Series Editor: Terence J. B. Spencer
Date Published: May 1968
Title: Richard III
Series Editor: Terence J. B. Spencer
Date Published: August 1968
Title: The Tempest
Series Editor: Terence J. B. Spencer
Date Published: April 1968
Title: As You Like It
Series Editor: Terence J. B. Spencer
Date Published: February 1968
Title: Henry IV PT.1
Series Editor: Terence J. B. Spencer
Date Published: June 1968
Title: The Two Gentlemen Of Verona
Series Editor: Terence J. B. Spencer
Date Published: October 1968
Title: Richard II
Series Editor: Terence J. B. Spencer
Date Published: March 1969
Title: Measure For Measure
Series Editor: Terence J. B. Spencer
Date Published: March 1969
Title: The Winter's Tale
Series Editor: Terence J. B. Spencer
Date Published: August 1969
Title: All's Well That Ends Well
Series Editor: Terence J. B. Spencer
Date Published: 1970
Title: Timon Of Athens
Series Editor: Terence J. B. Spencer
Date Published: 1970
Title: Henry VIII
Series Editor: Terence J. B. Spencer
Date Published: 1971
Title: The Rape Of Lucrece
Series Editor: Terence J. B. Spencer
Date Published: 1971
Title: King Lear
Series Editor: Terence J. B. Spencer and Assistant Editor, Stanley Wells
Date Published: 1972
Title: The Comedy Of Errors
Series Editor: Terence J. B. Spencer and Assistant Editor, Stanley Wells
Date Published: 1972
Title: The Merry Wives Of Windsor
Series Editor: Terence J. B. Spencer and Assistant Editor, Stanley Wells
Date Published: 1973
Title: King John (need)
Series Editor: Terence J. B. Spencer and Assistant Editor, Stanley Wells
Date Published: 1974
Title: Pericles
Series Editor: Terence J. B. Spencer and Assistant Editor, Stanley Wells
Date Published: 1976
Title: Henry IV Pt.2
Series Editor: Terence J. B. Spencer and Assistant Editor, Stanley Wells
Date Published: 1977
Title: A Midsummer Night's Dream
Series Editor: Terence J. B. Spencer and Assistant Editor, Stanley Wells
Date Published: April 1977
Title: The Two Noble Kinsmen
Series Editor: Terence J. B. Spencer and Assistant Editor, Stanley Wells
Date Published: 1977
Title: Antony And Cleopatra
Series Editor: Terence J. B. Spencer and Assistant Editor, Stanley Wells
Date Published: 1977